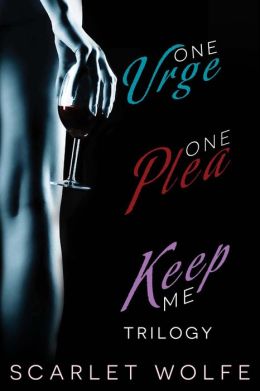 If you're looking for a hot and steamy series to read, check out the
One Urge, One Plea, Keep Me Trilogy
by Scarlet Wolfe. I read this trilogy and was  hooked from the first chapter. The instant attraction and chemistry between authors Alayna and Damon is palpable. You want these two together, but Alayna is cynical after a failed relationship and the only relationship Damon has is  BDSM one.  When Damon saves Alayna from being stranded at the airport during a snow storm things start to change between the two. What unfolds is a story that you can't get enough of. As things progress Damon has a secret that could potentially destroy everything between him and Alayna. Scarlet Wolfe delivers a fast paced, sexy story that you'll want to finish in one sitting.
The
One Urge, One Plea, Keep Me Trilogy
is definitely worth the one-click. Damon Lear is going to be your new book boyfriend.